Best Feminine WordPress Themes For Bloggers
If you are a blogger, you must've recognised by now the importance of having a stunning website. Like it or not, online, appearances always matter and if you want to create a lasting impression for your readers, having the perfect theme is the way to go!
If you want to stand out online and have a blog that represents you, buying a custom theme is the way to go! Here are 10 WordPress themes for female bloggers and entrepreneurs that I absolutely love and recommend: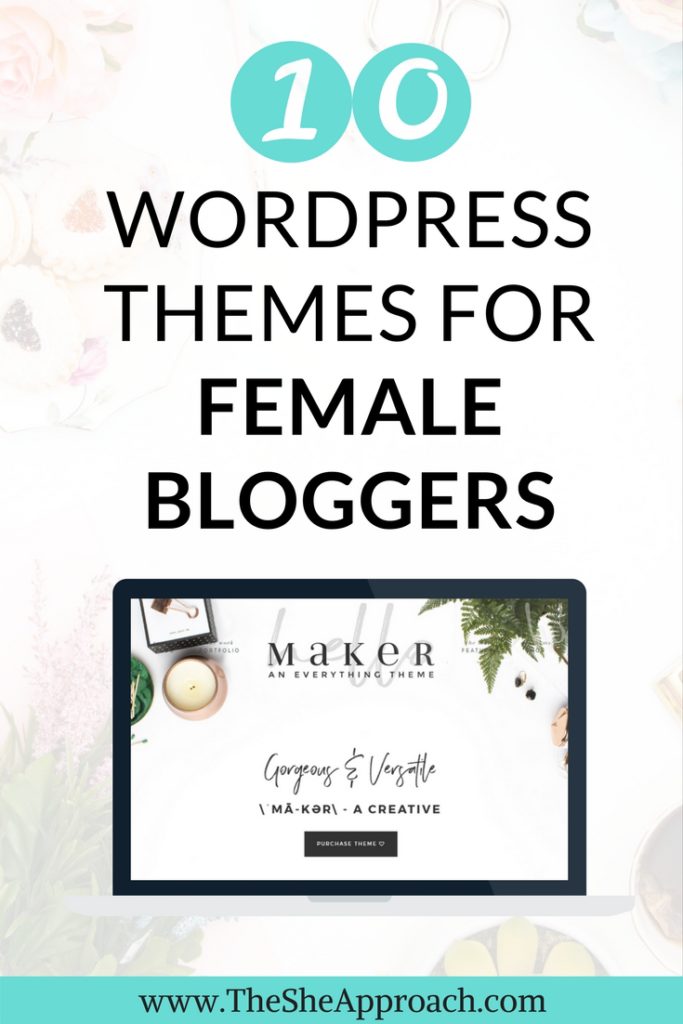 Since only self-hosted bloggers can upload custom designs, please make sure to read my tutorial on How To Start A Blog first. And I highly recommend considering to self-hosted if you are not already.
I know that choosing a free theme is tempting once you already paid for hosting, and you probably don't want to invest large sums into your blog but consider this:
First impressions are everything online. Free themes often look, well, free. It's just not a good look.
Free themes are available to over 70 million websites active with WordPress right now. What do you think are the odds of someone using the same free theme as you? Myeah…
The price of a premium theme can be anywhere from $20 to $50 to +$100. In my opinion, considering that you only buy the theme once and you own it from that point on, I think that is the smartest investment you can make for your blog. (And it's still affordable!)
Free themes often lack developer support with updates. So when WP updates and your theme is no longer compatible, you've got a big headache on your hands.
"I'm soooo glad I went with this free WordPress theme." – Said no one ever.
You can see why I think it's so crucial to consider upgrading to a paid theme. I promise it will make a world of a difference!
In the name of full transparency, please note that this post contains affiliate links and any purchase made through such links will result in a small commission for myself (not enough to get another puppy though). If you choose to purchase anything through my links, thank you for supporting me and my blog. You're amazing! Learn more about my privacy policy here.
Without further ado, here are 10 feminine WordPress themes that will take your blog to the next level:
Easy to set up and customize, filled with life and color and a delight to navigate, this theme by A Prettier Web was crafted for the ultimate feminine blogger! Valued at only $49.99, this one-time purchase will make a huge difference for your blog. It also includes amazing features such as:
Versatility to pick your own fonts, colors and blog layout to fully brand your site
Widget areas for newsletter signups and the ability to create Landing Pages
An adorable "About the blogger" sidebar widget that makes you stand out
Totally Responsive for Mobile & SEO Friendly
Check out more cool features and get a sneak peak at the live demo here!
---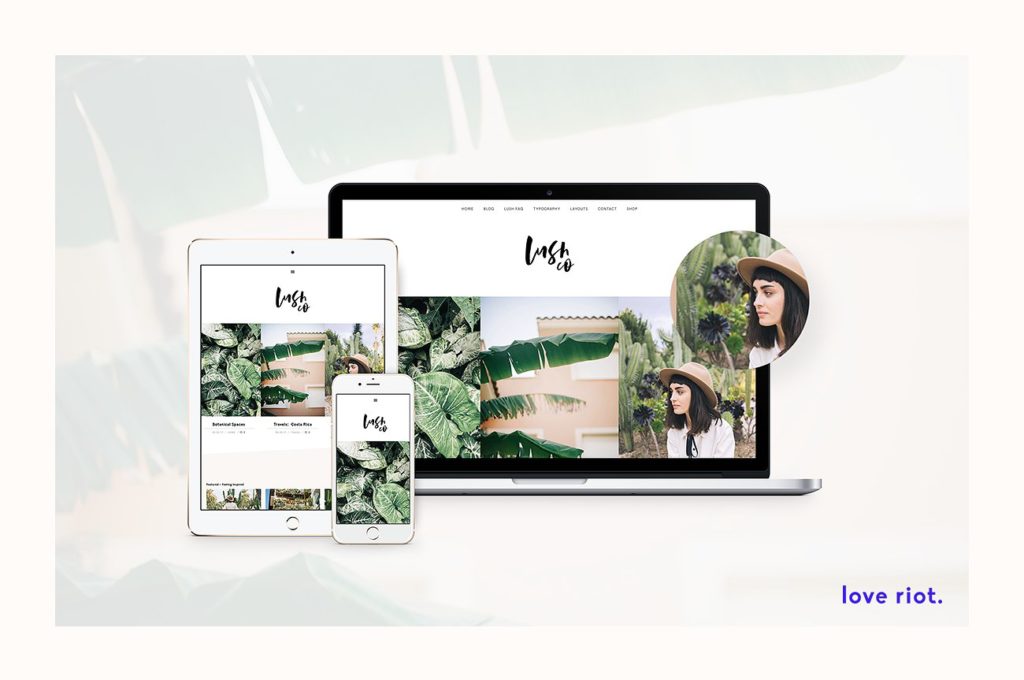 Lush is the perfect theme for female entrepreneurs that are looking to create both content and products to sell. This elegant design is for sale on Creative Market for only $48 and comes with amazing features and bonuses such as:
Colour customiser so you can change the colours to match your branding
WooCommerce ready so you can easily set up your shop
Full-width Instagram footer section
3 footer widget areas
Custom 404 & search results page
Check out this beautiful theme in action here!
---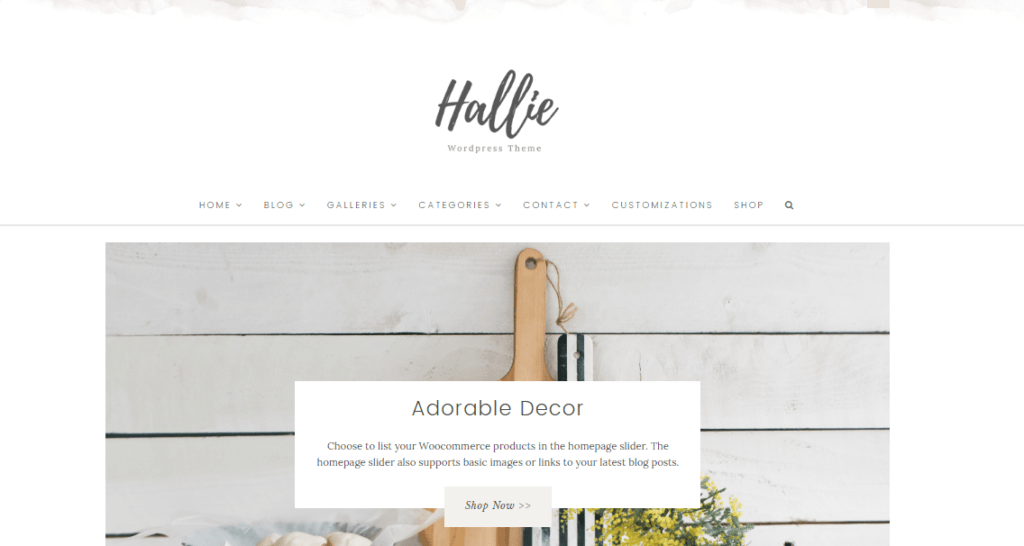 A stunning blog design by one of the themes shops out there that is really close to my heart, Angie Makes. This gorgeous theme is for sale at $70 and it is well worth the money. Here are a few of my favorite features:
Watercolor paint details and a refreshing, neutral color palette
Flexible, full-width slider can feature and link to any posts, products, post categories, or images
Custom built plugins to add incredible image gallery options and extra functionality
Stunning footer
Be sure to check the theme and see a live preview here because I can go on about it for ages!
---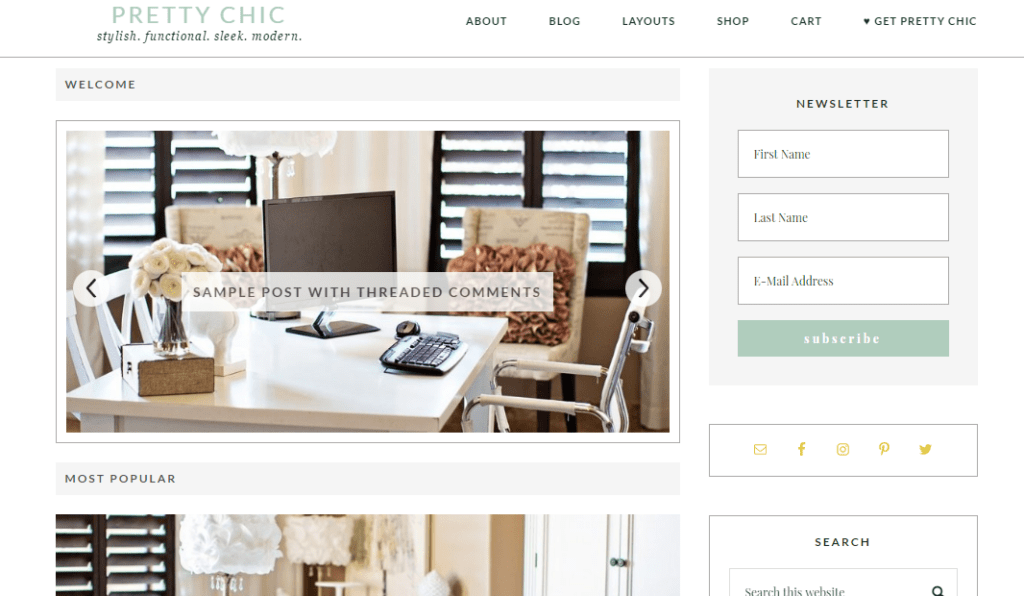 Another stunning design by Pretty Darn Cute, this Pretty Chic theme is valued at only $49.99 and it's the perfect choice for lifestyle, fashion and beauty bloggers. Other amazing features include:
Functional and sleek
Full-width ad widget (high converting ad placements)
Sticky Header & Navigation
20+ WordPress Video Tutorials
Get your chic on and find more about this theme here!
---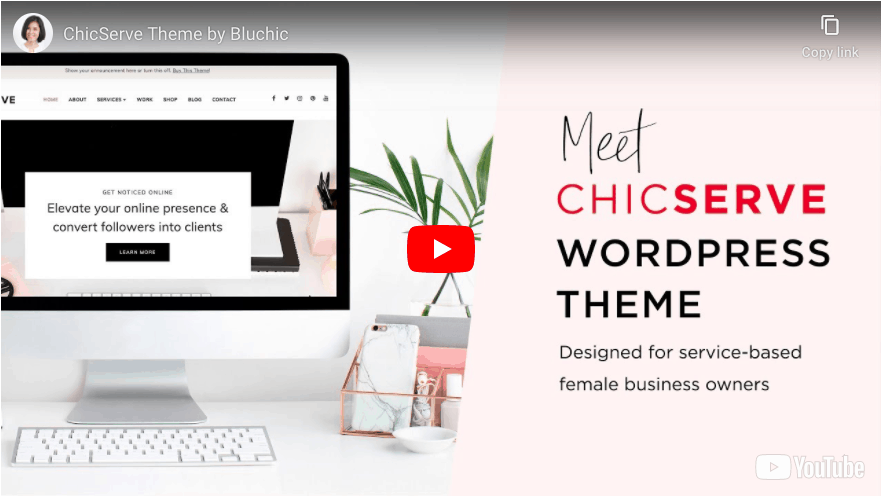 Meet ChicServe, a gorgeously designed WordPress Theme for female-owned service-based businesses sold by another one of my favorite shops, Bluchic for only $129, a price that reflects its quality. The minimal design has everything you need to create a visually stunning and dynamic website to showcase your products and your best work. Some of my favorite features are:
Specifically designed for serving businesswomen that sell online
WooCommerce ready & SEO friendly
Comes with 20+ step-by-step video tutorials so you can confidently set up the theme by yourself and 10 free stock photos
Ready to take your store or business to the next level? Check out this theme in all its beauty here.
---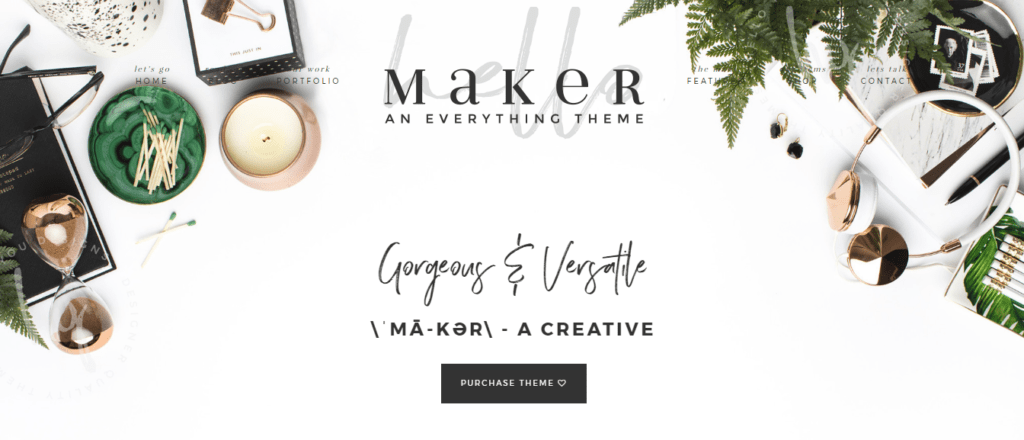 If you want a really unique and outstanding theme, Etsy is the place to turn to! This feminine WordPress theme is valued at around $80 and it's perfect for creative entrepreneurs and bloggers. Some features that make it worth the money are:
Custom widget areas
Unlimited homepage layouts
Woocommerce & Easy Recipe styling
Above & Below Content Widgets – Perfect for ads or call to action
This theme requires the Genesis Framework in order to work. This tool will make it incredibly easy for you to customize your dream WordPress website and it is the best investment you can make for your blog! Check out more cool features about it here!
---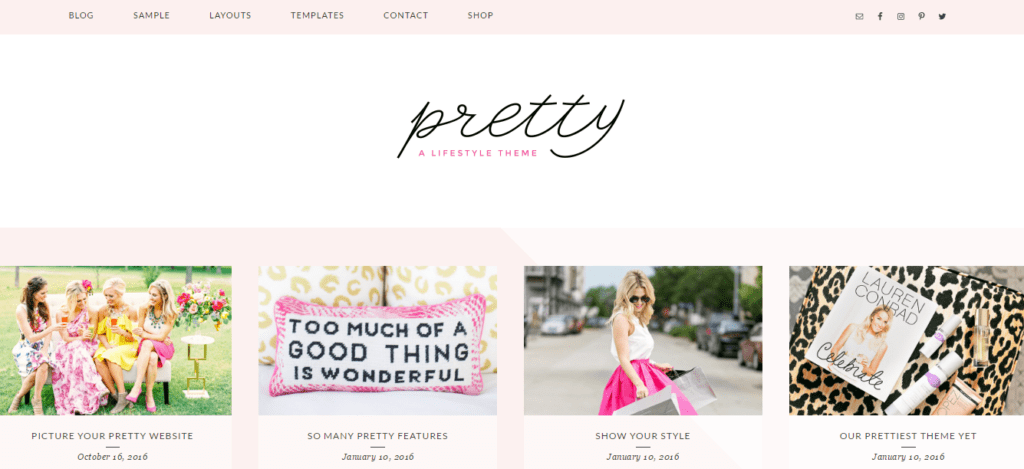 By now I'm sure you realized that I am obsessed with all the themes from Pretty Darn Cute. One of my favorites is this theme that comes at the cost of $75 and it's a perfect design to showcase your bubbly personality online. Some of the features it has are:
Ideal for lifestyle bloggers and female entrepreneurs
Fully widgetized custom Home Page
Completely mobile responsive design
Custom category page with dropdown
Once you go "pretty" you never go back! Check out more cool features about this theme here.
---

Another gorgeous, simple and delicate Etsy theme that will showcase your content in a beautiful and stylish way for under $20. This theme has everything you need to run a successful fashion, travel or hobby blog. Some of the features include:
Free support and free installation
Clean and minimalist theme
No coding skills required
SEO optimized
Get a better view at this affordable WordPress theme here!
---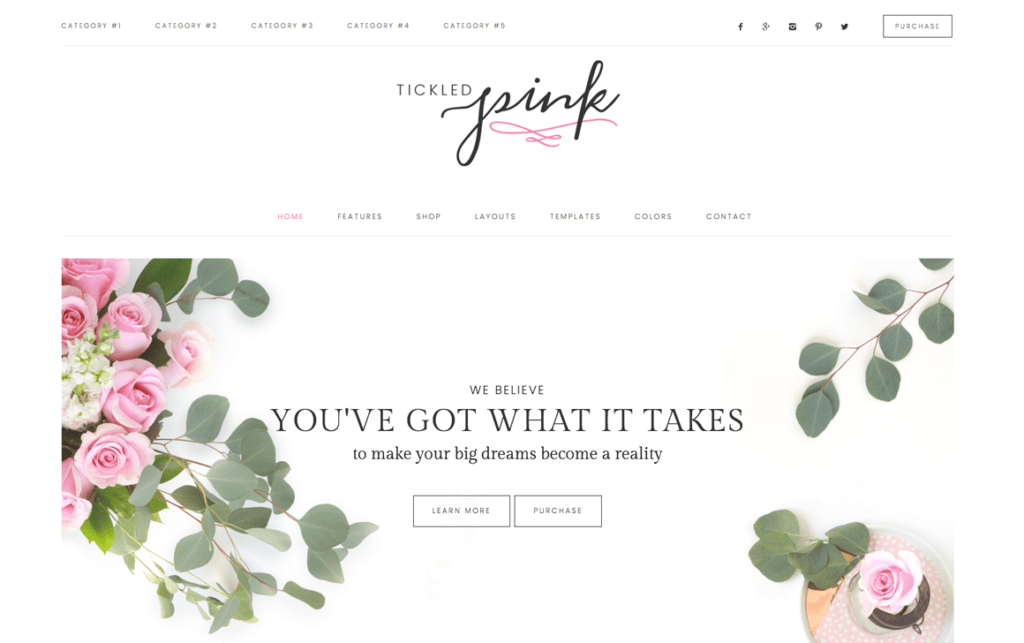 This visually stunning theme is perfect for female bloggers of any niche and it is for sale on Restored 316 for only $75. Some of its features that will make you want to add it to cart are:
Stock images are all included
Category Index for easy post organization
HTML5 Markup + Mobile Responsive
Works with WooCommerce
This theme requires the Genesis Framework in order to work. This tool will make it incredibly easy for you to customise your dream WordPress website and it is the best investment you can make for your blog! Check out more cool features about it here!
---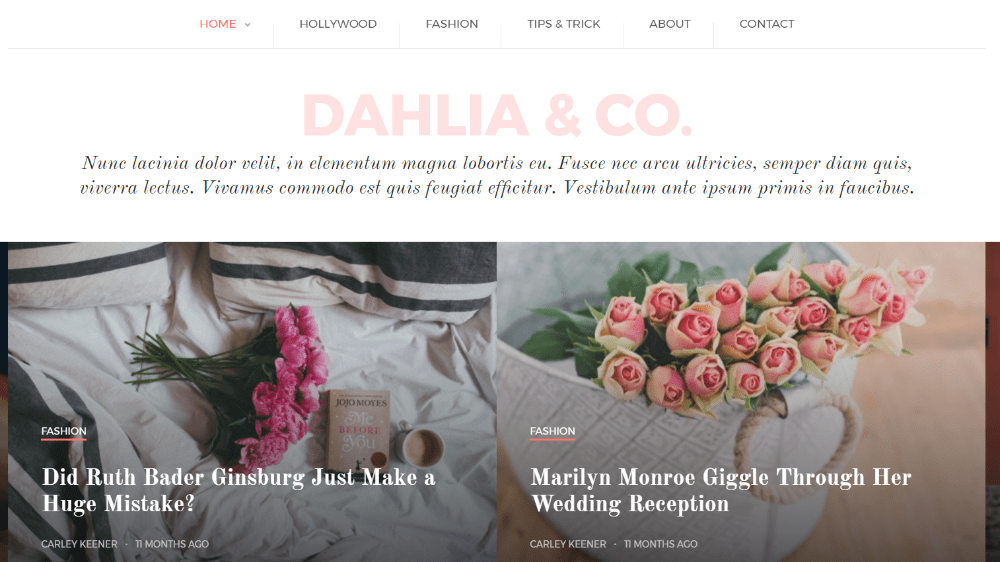 Last but not least, this custom WordPress theme for bloggers and online entrepreneurs can be purchased from Meridian Themes for under $60. It's sleek design, interactive features and feminine aspect make it a great catch in terms of website design. Here are some other premium features:
Instant Digital Download
5 pre-built homepage designs
Responsive design on all platforms
Built-in Newsletter Subscribe Boxes
---
Purchasing a theme template can save you the trouble and the money of hiring a website designer. The good news is that all these themes are highly customizable, so you can take the foundation shown in these demons and turn your website into something that is completely your own!
Please be aware that these themes only work if you are self-hosted with WordPress.org as the free WordPress version does not allow custom templates. Articles that might be helpful in understanding the difference are:
💎 What is hosting and why do you need it
💎 How To Start A Blog (The Overwhelm Free Way)
More Stunning Feminine WordPress Themes
Didn't find what you are looking for? Here are a couple of my favorite theme shops where you can go hunting for stunning and affordable Wordpress themes:
If you can't afford any of these themes right now, be sure to check out my blog post on How To Pay Monthly For Your WordPress Theme. But this is an investment that you can't skip on when it comes to building a profitable blog.
When is the last time your blog had a makeover? And what is your favorite place to go theme hunting at? Let me know in the comment section below!
10 WordPress Themes For Female Bloggers & Entrepreneurs