What I Wish Someone Told Me Before I Started My Blog
I've been a blogger now for over 5 years, out of which I've been blogging full-time for about 3. After starting multiple blogs and making my livelihood online, I wanted to share with you a few things that I wish someone had told me earlier on.
If I could go back to when I first launched The She Approach, and use the knowledge I have now to get started, I would've done things a lot differently. And save myself a lot of time and money in the meantime.
That's what I want to share with you in this article as I reminisce on the journey that got me here. And as I share updated strategies and tips for new bloggers who want to follow the same path of starting a blog, I hope you find some useful takeaways.
💎 RELATED READS FOR NEW BLOGGERS:
Here are 7 things I wish I knew before I started my blog. But before I get into it, in the name of full transparency, please note that this post contains affiliate links and any purchase made through such links will award me a small commission (at no extra cost for you).
If you choose to purchase anything through my links, thank you for supporting me and my blog. You're amazing!
Keep in mind that this post also includes opinions I had after my first year of blogging and updates on how those changed in the following years. I also discussed this in my new Youtube video:
1. You CAN'T build a website in 10 minutes
Well, you probably can, but not a very good one. After watching all those Youtube tutorials, I was convinced that setting up my actual blog is only going to take an hour, tops! Incorrect. It took me days before my blog was worthy enough to face the public. Maybe I'm just a perfectionist, but I had to test and try out so many themes before I could decide. And the hardest part comes once you try to customize your theme and add some actual content to it.
Some bloggers suggest that you should just not focus much on this aspect in the beginning, but I disagree. You want to be proud of what you're putting out there, and you want to make sure it makes a powerful first impression on people. So dedicate some time and effort into making sure that you create a website that you like!
UPDATE: Good blogging hosts actually make it a lot easier to build blogs than it was a few years ago. But I stand by this. You need to allocate some time to building your website + figuring out the learning curve of WordPress as a beginner. But don't wait for it to be perfect – launch as soon as you can!
2. You CAN build a website on your own
After I registered my domain I got bombarded with emails and phone calls from web design companies that were offering to build a website for amounts of money I didn't even have.
I got a bit discouraged because I thought if people are willing to pay so much money for it, then it's not only going to take forever with my limited technological skills, but it's probably going to take a lot more effort than I initially thought it would and might not even end up very good.

I had to put all of these fears aside and I got inspired by other bloggers that made their own blogs from scratch. Because it is possible. It takes a bit of research (because all the information you need is already out there), some patience and willingness to learn.
Fast forward to today, where I'm super proud of my website and I even managed to design my homepage by myself, without the sky falling. I guess what I'm trying to say is that you're going to encounter some tech issues along the way, but they are never as complicated as they first seem.
UPDATE: Totally agree with this! All you need is a made-for-you website template that fits your needs. There is no need to spend more than $100 on a WordPress theme in the first year of blogging.
3. You need to invest some money up-front
My blog and I have had a few passing affairs before, but it never lasted. I was never motivated enough to be consistent in what I was doing, so I would get really excited for a month and then forget I had a blog for two.
But the funny thing about spending money is that it makes you accountable for what you do with it after.
So I decided to go pro, self-host my website on Bluehost (which came for a free domain for my first year), and even buy a theme. I was determined to have a professional-looking website and turn it into a profitable blog.
And I did! Slowly but surely, I started to earn money back from my blog, not only to cover all my expenses but to surpass all that and make a profit based on the time that I was spending working.
If you still own a free blog, read my post on 7 Reasons To Go Self-Hosted With Your Blog and find out why it's crucial to invest in your hosting at the very least as a new blogger. And if you're ready to start this journey for real, you can start a blog for only $2.95 a month here!
But looking back, my blog's growth wouldn't have been possible without one of the best purchases I made for my blog and my blogging education: The Genius Blogger's Toolkit! I bought the bundle in 2016 and the resources in it guided me to find out more about what to write, how to grow my audience, how to promote myself on social media, how to start making money blogging and how to make time to do all that while having a full-time job.
This bundle only comes around once a year, but there are plenty of resources that you could invest in that will skyrocket your income and blogging expertise. So be brave! And bet on yourself for once!
UPDATE: In 2017, my Blog Traffic ebook was actually featured in their bundle, which just goes to show how far you can get in one year if you have some help and some resources guiding you.
4. It's going to take time
I am not a full-time blogger just yet. but it sure feels like that on some days. Blogging takes time. And I mean time besides the actual construction of the blog.
Because if you are not writing a post then you are putting up content on your social media, or you are researching for the article and trying to connect with other bloggers. The point is, there is always something to do. And if you want to put up quality content, then you have to put in the time. Are you ready for that commitment?
Your blog is not going to take off overnight. Some things take time and building a strong foundation is the best thing that you can focus on early on. That is why I wrote an ebook that teaches new and more seasoned bloggers how to put the right strategies into motion so that they can build an enagaged and loyal audience and take their blog to the next level.
5. You need to start with at least 5 posts
I spent so much time working on the visual aspect of the blog, that I forgot about the actual articles I had to write and had to resort to reusing some from my old (free) blog. Such a rookie mistake.
My launch date was coming up, and I wanted to stick with it so badly that I launched my blog with only four posts.
So there I was, driving all this traffic to my new blog and creating all this excitement around it that only followed by a high bounce rate (people who simply left the website quickly because there was nothing there for them) and confusion since the posts don't actually narrate what my blog is about.

So my advice to you is this: If you're going to put all that effort into making a memorable first impression, don't overlook the first articles, and have 5 to 10 prewritten blog posts once you announce your website and put it in front of an audience.
6. You don't have to have a great camera in order to have a visually stunning website
I wanted my blog to be authentic and have unique content and my own photographs. But not all of us can start with a great camera and expert photographic skills.
You also don't want to steal photos from just anywhere, since that is a bit immoral and can get you in copyright problems. But what you can do is use the tens of websites out there that specialize in not only selling photos for commercial use but even giving them out for free.
💎 READ MY POST ON HOW TO USE BLOG PHOTOS LEGALLY
So all the photos you see on my website right now, except the one of me obviously, come from such a website. I do not recommend doing this forever since you do want to create unique photos and keep your visitors engaged with unique content, but it's of great help when you are starting out.
7. No one is going to be more excited about your blog than you (and it's ok!)
That sounds like a cruel thing to say, but here is what I mean. It's ok if you are jumping up and down with happiness that you are finally launching your own blog and you're friends are like "Oh, how great…!".
I know it can be discouraging, but you should always be the biggest fan of your work because that is the way to get people interested in what you're doing.
Your friends and family, even if they are your biggest supporters, cannot be more excited about your blog than you are, because they are not the ones creating it. I guess what I'm trying to say is: Believe in yourself first! People will recognize that and they will follow suit.
Ready to get excited? Read my post on How To Start A Blog In Three Easy Steps and get started today!
📌 PIN THIS POST FOR LATER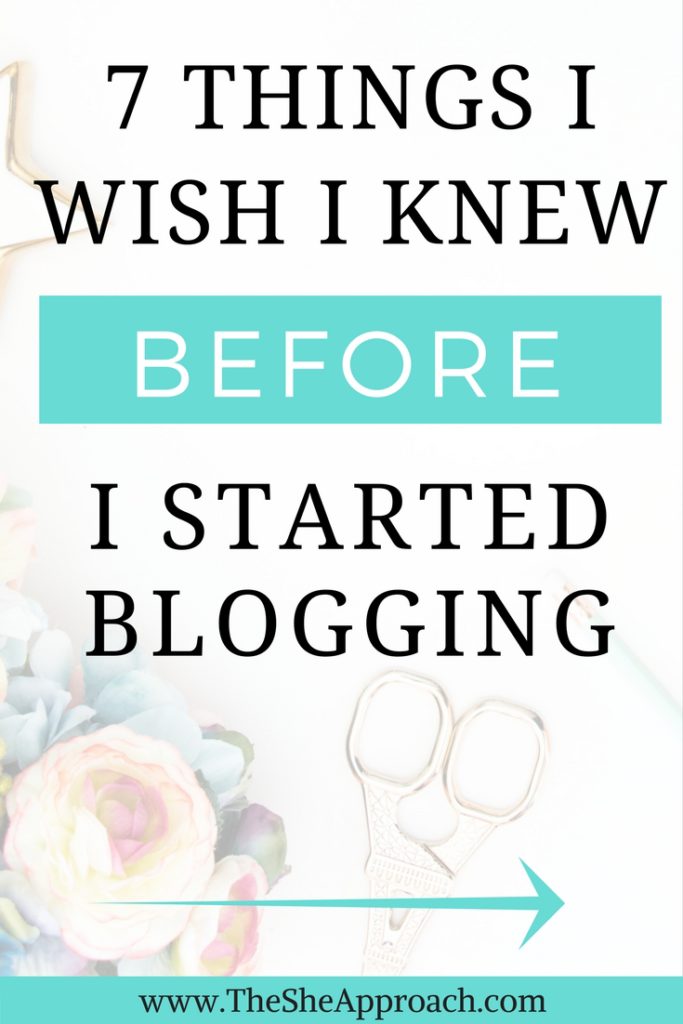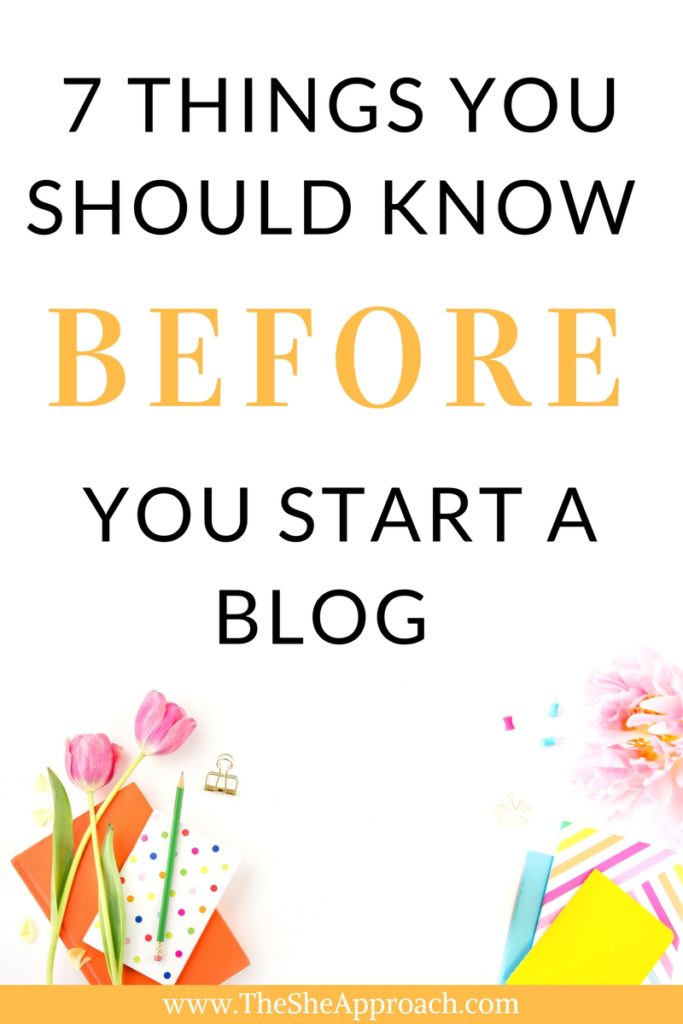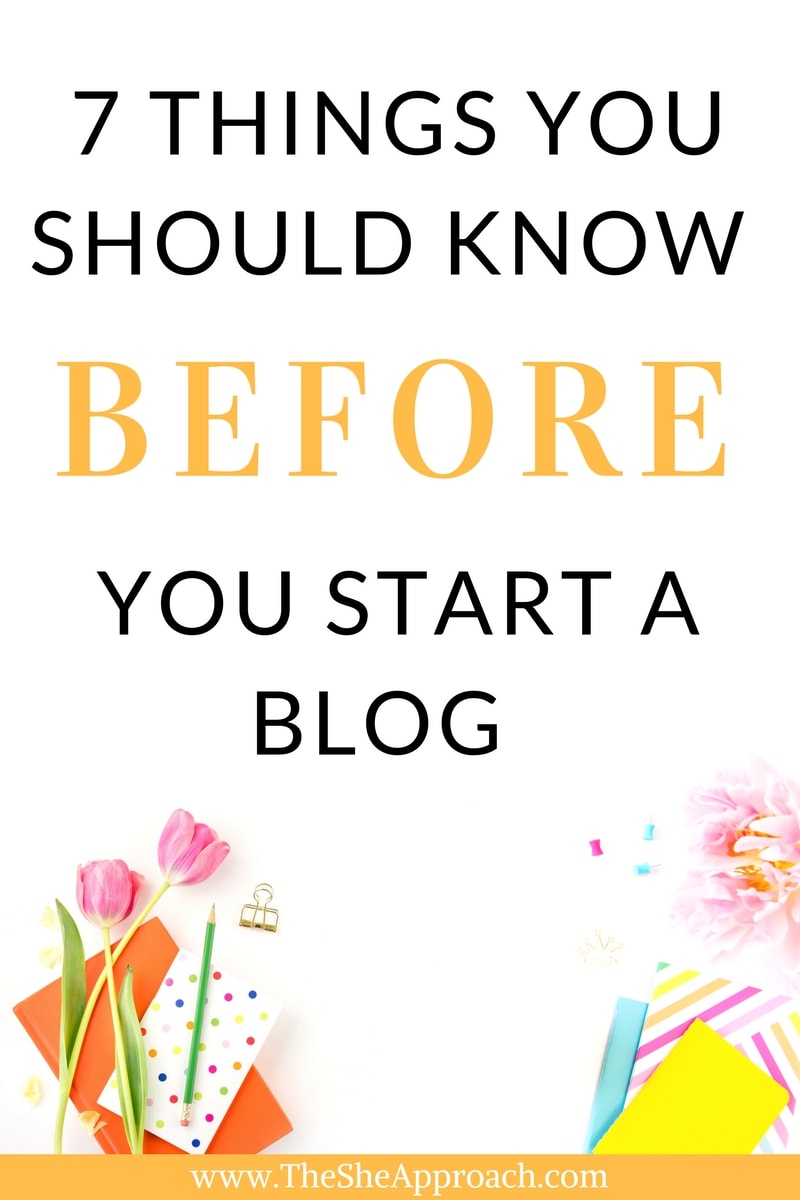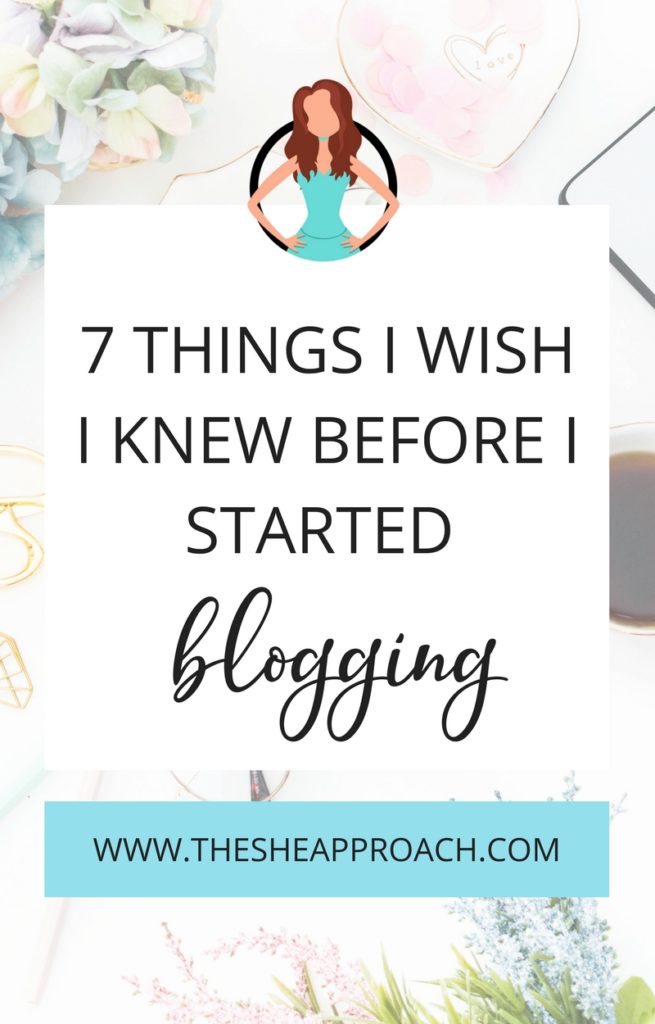 ---
There is obviously much more to blogging and I have a lot to learn myself, but I am excited to test the limits of what I think I can do and share my experiences with you. If you want to receive weekly blogging tips, freebies and expert advice, hop on my email list.
If you are a blogger, I would love to know what piece of information you wish you knew when you before you started your blog. If you are planning to start a blog, and have any questions, please do feel free to ask them in the comment section, as I will be personally reading and replying to all of them.
And if you're ready to start your own blog (and make it profitable), enroll in my free course today!
What I've Learned From Launching A Second Blog
Since initially writing this article, a few years have passed. New lessons have been learned. And blogging has evolved some more. I have also launched a second blog – in a niche that has nothing to do with blogging. And I've been coaching women 1-on-1 on building successful blogging businesses too.
And here are a few more nuggets I wanted to share with you about actually building a profitable blog:
Research blog posts that your audience wants to read. Your blog is not actually about you. You need to build useful and helpful content that your readers are actually interested in, and the best way to do that is to learn SEO and do your keyword research. Hint: that's how I grew my pet blog – organic Google traffic!
Start an email list! Don't postpone this. Get your readers to come back, establish that line of communication and learn how to market your services and offers over email.
Treat your blog like a business. If you only treat your blog as a hobby, that is what it will remain to be. Think your blog as a business. Invest in it, keep track of your numbers, learn new strategies that work and review your performace to see what's actually working for you.
I share more updated blogging strategies and insights into my second blog over on my Youtube channel, so be sure to check out my videos.
7 Things I Wish I Knew Before I Started Blogging