Are you passionate about helping other bloggers grow their platforms? Do you have an audience that would find my eBooks and eCourses helpful?
Then join my affiliate program (it's free) and earn money by recommending my products to your friends and readers.
---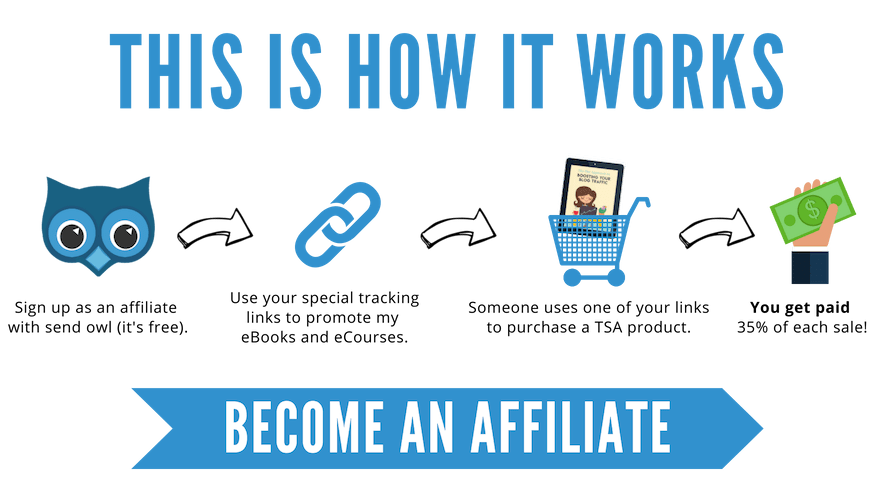 ---
Join my affiliate program here. (To join, you must first create a free account with SendOwl. After that you can use the link above to apply.)
Log in and go to "Programs".
Find and click on the "The She Approach" Affiliate Program.
Go to "Click to see affiliate links."
Use your unique affiliate link (you can find them under the "Links" column) to promote the products.
Use the social media graphics from this Dropbox folder to promote my digital goodies.
Join my affiliates newsletter below to keep updated. (Please note that by becoming an affiliate for The She Approach, you agree to receive relevant updates, news and tips via email that will help you increase your affiliate commissions. You can unsubscribe at any time, but I urge you to stay subscribed to hear about promotions and affiliate news.)
FAQs
💎 What products can I promote?
At the moment I have 7 products that you can promote and earn an affiliate fee for:
---
💎 How much will I earn if I promote this?
For every single sale you refer, you get a 35% commission (as calculated above).
Cookies are valid one month after someone clicks on one of your affiliate links, so you will still earn a commission if you recommended a product, someone clicks then they go to purchase it a few days or weeks later.
I also have upsells in place (which means that when someone adds one of my products to cart, they get a limited time discount for another one of my ebooks or courses) and I gave affiliates a commission for the entire cart value. (This simply means that even if you're promoting my cheapest ebook, you could earn more than $9 per sale.)
My top affiliate has made $2,500 in the last 6 months alone, and because you get paid for every sale you made, there is no cap on your earnings!
---
💎 How do I track my sales?
SendOwl keeps score of every sale made through your special link. You can track your sales and keep an eye on your earnings in your SendOwl Dashboard.
You will also get an email that will let you know when you make a sale (whoopie!!) and you will receive a monthly update of your earnings (you can change these settings in your SendOwl Dashboard).
---
💎 When and how do I get paid?
You get paid on the 1st of every month for all the sales you referred in the past 30 days. (If you refer a sale on the 28th of January, you get paid on the 1st of February.) There is no minimum threshold, so whatever you earn, you get paid the next month.
Payments are issued directly to your Paypal account. (Don't forget to input your PayPal address into your SendOwl account in Settings once you register.)
---
💎 Do I need to purchase anything first to be able to join?
I strongly believe that in order to successfully promote a product or a service, you have to be familiar with it. Sharing your own experience with the products (what you learned from them, how it helped you) also increases your conversion rates.
But no, it's not required to buy anything in order to be accepted into the program.
---
💎 How to know if you're a good fit:
You have a website, Youtube channel or a platform of any kind where you share blogging or social media tips.
Your readers/followers are interested to learn more about things such as: making money online, monetizing their blogs, affiliate marketing, self-publishing eBooks, Pinterest or growing their blog traffic.
You run your blog/business with integrity and you have a basic understanding of affiliate marketing.
---
💎 How do my funnels work?
There are lots of ways that you can get someone into one of my funnels and make affiliate sales, without having to send them to a "sales page".
For example, I offer free courses, ebooks and webinars (coming soon) to get customers into our funnels. Once they enrolled in a free course for example, we send them follow-up emails encouraging them to make a purchase.
Two free courses that you can promote to your followers (using your unique affiliate links found in Send Owl) are:
All you have to do is get them into our funnels, and we will do the rest! Once you send someone our way, we will work hard to get them to convert as a customer. As long as they make their first purchase within 60 days of clicking your affiliate link, you will get credit for the sale.
---
BONUS AFFILIATE PERK: SELL 5 – GET 1 FREE
Starting with March 2019, when you sell 5 copies of any eBook or 7 copies of any bundle or course, you will receive that eBook/eCourse for free! Just email me at [email protected] to claim it, and include the order numbers of your referred sales.
---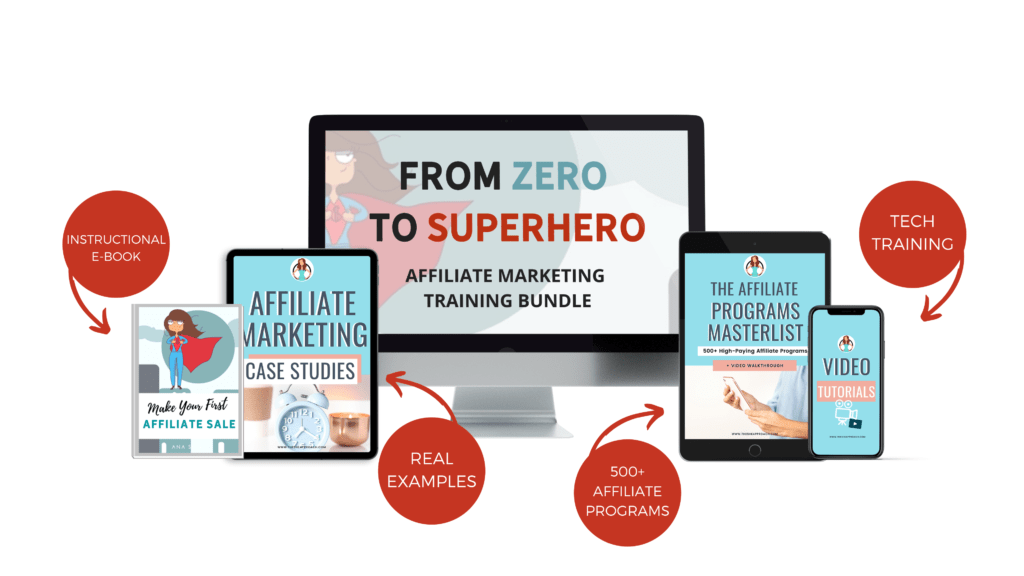 How To Promote The Products
You can promote my eBooks, courses or freebies in any way you see fit. As long as you are using the unique link generated in your SendOwl dashboard, any sale will count and you get creative control.
Here are a few ideas on how and where to promote the products:
Write a review (what did you think of it, how it helped you and so on)
Add it to your resource library
Add a banner in your sidebar
Include it in your blog posts
Post your link on social media
Use the graphics provided in the Dropbox folder here (or create your own) to promote it on Pinterest or social media
Send out a newsletter to your email list
Recommend it to your blogger friends or in Facebook groups
Promote my free courses to increase your sales
Need some help? Read my post on How To Make Your First $1,000 In Affiliate Sale to learn more about affiliate marketing.