To join The She Approach Affiliate Program please follow the instructions below: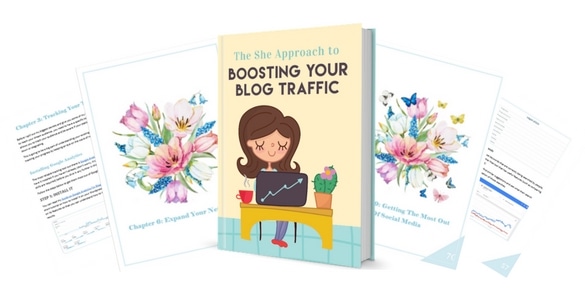 Purchase the eBook here. I strongly believe that if you want to make affiliate sales you have to be familiar with the products you are promoting.
Join my affiliate program here. (To join it, you must first create a free account with SendOwl. After that you can use the link above to create your affiliate links.)
Log in and go to "Programs".
Find and click on the "The She Approach Traffic Ebook" Affiliate Program.
Go to "Click to see affiliate links."
Use your unique affiliate link to promote the ebook and get paid for every sale you refer.
Use these resources to promote the eBook.
Join my affiliates newsletter below to keep updated. (Please note that you will be added automatically once you sign up so you can receive relevant updates about any promotions or flash sales.)
FAQs
💎  How much will I earn if I promote this?
For every single sale you refer, you get a 35% commission.
Cookies are valid four weeks after someone clicks, so you will still earn a commission if you recommended the book to someone and then they go to purchase it later.
💎  How do I track my sales?
SendOwl keeps score of every sale made through your special link. You can track your sales and keep an eye on your earnings in your SendOwl Dashboard.
You will also get an email that will let you know when you make a sale or give you a weekly update (you can change these settings in your SendOwl Dashboard).
💎  When and how do I get paid?
You get paid on the 1st of every month for all the sales you referred in the past 30 days. (If you refer a sale on the 28th of January, you get paid on the 1st of February.) Payments are issued directly to your Paypal account. Don't forget to input your PayPal address into your SendOwl account.
💎  Do I need to purchase the ebook first?
I strongly believe that in order to successfully promote a product or a service, you have to be familiar with it. Sharing your own experience with the ebook (what you learned from it, how it helped you) is, therefore, a better way to make sales, as proven by existing affiliates.
If you intend to become an affiliate and purchase the e-book for yourself, contact me at info@thesheapproach.com to get a 30% discount.
But no, it is no longer a requirement to buy a copy in order to be accepted into the program.
How To Promote The Ebook
You can promote the ebook in any way you see fit. As long as you are using the unique link generated in your SendOwl dashboard, any sale will count and you are free to promote the ebook on your blog, social media or via email.
Here are a few ideas on how and where to promote the eBook:
Write a review (what did you think of it, how it helped you and so on)
Add it to your resource library
Add a picture of it in your sidebar
Include it in your blog posts
Post your link on social media
Use the graphics provided in this Dropbox folder (or make your own) to promote it on Pinterest
Send out a newsletter to your email list
Recommend it to your blogger friends
Need some help? Read my post on How I Made My First Affiliate Sale In 2017 to learn more about affiliate marketing and how you can make money promoting this ebook.
Skipped to the end? Join the program here. Access promotional resources here.